What is a Pakol?
Pakol, a soft rounded wool cap is traditional headwear in the northern region of Pakistan. It is readily available in all sizes and colors. It is organically made and comfortable to wear. The Pakol is the symbol of custom and pride among the natives. The Wool Cap is trendy yet timeless.
It's funny that some people consider it a Taliban hat which is a huge misconception!
Origin of Pakol
Pakol hat is the ancient men's headwear of Chitral. Later the iconic Pakol became popular in the Pashtun tribe and other people of Northern Pakistan and Afghanistan. The traditional headwear was adopted by people of IJK in India and Russia mainly because of their geographical vicinity.
How Pakol are being made?
The Pakol are hand-made by local artisans from natural sheep wool. Natives take pride in their manufacturing and supplying. The hygroscopic material made it a year-round commodity. It's sweatproof and anti-crease. The pakol hat protects you from both cold winds and hot sun. These traditional hats are dyed and woven by hand. This organic piece of the headdress is available in all neutral shades depicting the subtle nature of natives. Some favorite colors are brown, gray, nude, and off-white. You can also get a customized one made.
Sizing and Manufacturing
A sheep wool fabric is carefully crafted in various hat styles.
The wool fabric is ironed and the circular top is cut out into several sizes to fit all.
A customized polyester piece is added to the headgear for a warm effect.
The remaining cloth is cut in standard rectangular size to form the folded part.
The round top and lower rectangular parts are stitched together.
The lower portion is folded by hand to finalize this beautiful man's headdress.
The folded sides of this headdress are kept soft and flexible to make it adjustable and edgy.
Types of Pakol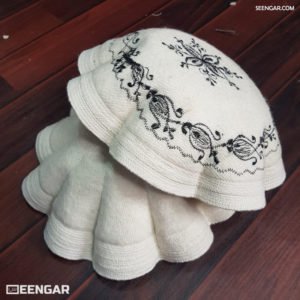 Artisans make different types of Pakol. Different designs, colors, and styles offer versatility. You can pick any design that suits you.
How to wear Pakol?
For those who must be wondering about how to wear this Pakol hat. It's super easy! You just have to put it on your head like a regular hat or beret.
How Famous is Pakol?
You can see all kinds of people wearing Pakol from members of the royal family Dear lady Diana to Pakistan's former Prime minister Imran khan to social media Influencer Daneer Mubeeen to backpackers and wanderers.
Fun Fact!
You must be wondering if Pakol is available for kids.
Yes! We have the stalk available for your little munchkin too.
So what you are waiting for now!
Hurry up! Grab the Pakol of your choice this season before visiting those scenic mountains.
Checkout some of our Pakol Collection